Announcing new President
&

CEO of WestCaRD in June 2015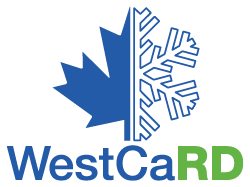 West Canitest R&D (WestCaRD) Inc.
33 Allen Dyne Rd
Winnipeg, Manitoba
R3H 1A1
Centre for the Advancement of World-class
Engineering & Environmental Testing and Innovative
Research & Technology Development
NEWS RELEASE
25 May 2015
Announcing new President & CEO of WestCaRD in June 2015
Winnipeg, Manitoba – The members of the Board of Directors of WestCaRD are pleased to present Bob Hastings, of Pointman Canada Ltd, as the next Chief Executive Officer (CEO) of WestCaRD. Mr. Hastings is the successful candidate resulting from a nation-wide search to fill the position. "Bob Hastings has been unanimously confirmed by our Directors as President and CEO of WestCaRD. We are pleased to welcome him to our organization", said Michael Kukelko, Chairman of the Board of Directors of WestCaRD.
Mr. Hastings will commence his duties in June 2015. During his initial month, Hastings will work closely with retiring CEO, Vic Gerden, to ensure a smooth transition. Mr. Gerden will remain a Director of WestCaRD, serving on its Board. "We thank Vic Gerden, our founding CEO for his extraordinary contributions to our organization. We simply would not exist had it not been for Vic's constant, steady hand and vigilance guiding us from our inception though the success we are experiencing now" said Chairman Kukelko. He continued, "Bob Hastings is uniquely qualified to lead WestCaRD into our next exciting chapter."
Bob Hastings comes to WestCaRD as a seasoned aerospace executive, well known for his contributions to the aerospace industry within Canada and beyond. He brings unmatched experience gained through a variety of experiences in aviation Research and Development (R&D), advanced technology, military service and business development. Currently residing in Ottawa, Bob and his wife Gail will be moving to Winnipeg in June as he commences the WestCaRD role.
WestCaRD's mandate is to support the growth of new technologies, enable R&D projects, create business opportunities and facilitate associated high tech institutional workforce training and development. WestCaRD is broadening its objective, maximizing technology development opportunities with aerospace testing and propulsion while branching into other relevant industrial sectors.