WestCaRD Strategic Planning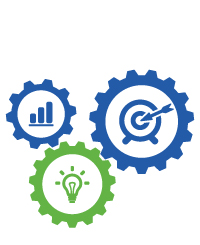 WestCaRD's strategic planning growth strategies include continued and increasing diversification of business and technical growth objectives to meet its mandate and increase its beneficial economic direct and indirect impact for many years to come.
Growth Strategies
Business Objectives
Technical Objectives
Equipment Acquisition
Growth Strategies
Long Term Operational Objectives 
To continue to create significant economic impact, WestCaRD will continue to build on past successes and generate operational revenues from additional sources while adhering to WestCaRD existing commercial agreements, organizational objectives, core values, accessible infrastructure and competencies.
WestCaRD® revenue generation measures will include:
Testing Research & Development Centre (TRDC) facility rental,
WestCaRD equipment rental, and
Project initiation and coordination & management services.
 Increasing Aerospace Sector Impact
The Testing Research & Development Centre was specifically designed and constructed for aero-engine environmental, developmental and certification testing of aero-engines. However, WestCaRD and TRDC hardware offers other potential project applications and opportunities, such as :
Wireless sensor development,
High speed Imaging,
Large data exploitation and processes,
Alternative fuels testing and validation,
Helicopter rotor and wing icing resistant coatings testing,
Airfoil or component testing in hover or landing icing conditions,
Icing instrumentation development,
Engine intake icing testing,
Aircraft structure projectile impact testing ,
Ice crystal, mixed phase cloud characterization,
Unmanned Aerial Vehicle (UAV) environmental testing, and
Analysis of other airborne contaminants such as volcanic ash.
It should be noted that many of these opportunities are only feasible in a sea-level test facility by virtue of the wind generator which is a key design component of the TRDC.
Sector Growth Beyond Aerospace 
The use of TRDC or WestCaRD infrastructure for non-aerospace applications represents an opportunity to expand WestCaRD's reach into other economic sectors in Manitoba and Canada. This path offers opportunities to increase and broaden WestCaRD's beneficial impact.
Manitoba's strong industrial and academic base in the land transportation, energy (both conventional and alternative energy sources), and agricultural manufacturing sectors represent potential opportunities for WestCaRD commercial interaction. These sectors are North American and global leaders in technology innovation and insertion and could benefit from access to WestCaRD and TRDC infrastructure and component systems.
An initial listing of possible applications of interest is provided below:
Power line tower and cable ice accretion and wind loading;
Scaled, tall structure wind loading;
Land transportation vehicle aerodynamic drag studies;
Bus or truck operational testing under blowing snow or ice conditions;
Large land transportation cooling system technology validation;
Scaled ship/helicopter wake interaction; and
Oil rig/helicopter operability in adverse flight conditions.
Capability Growth and Investment
While strongly interdependent with GE Aviation's capital investment and utilization plans for the TRDC, WestCaRD continues to explore investments in infrastructure to extend its reach beyond aerospace and increase its impact on the Manitoba economy.
Human Capital Development 
The development of the human capital necessary for the RDT&E associated with WestCaRD and TRDC operations continue to be a fundamental organizational objective
WestCaRD supports the University of Manitoba (UoM) Aero-engine Testing Engineer in Residence (EiR) program including the initiation and coordination of industry-driven applied R&D projects as well as Capstone design projects for undergraduate engineers. WestCaRD is also working closely with Red River College on training and applied R&D project opportunities.
Business Objectives
WestCaRD is a non-profit organization (NPO) with business objectives of developing new economic strengths and enhancing existing economic success through the support of applied R&D and the development of human capital necessary to meet emerging product and technology demands. In meeting our objectives WestCaRd will:
Foster economic growth via new technology growth in Manitoba
Enhance the GE Aviation Test Research and Development Centre (TRDC) facility to maximize utilization
Identify high quality opportunities for Manitoba entities and people
Showcase Manitoba technologies & expertise
Develop and implement new technologies & know-how
Develop specialized, differentiating expertise and high quality jobs in Manitoba
Engage expertise and talents at Manitoba's Universities & Red River College
Be a catalyst for multi-sector industrial Technology Development
Foster collaborative activities between Manitoba, Canadian and international entities to maximize economic benefits
Promote an innovative icing and environmental testing campus and develop a center of testing and certification excellence in Manitoba
Attract new collaborators, new technologies and facilitate new 3rd Party work including additional Industrial and Technology Benefit (ITB) related work
Facilitate 'climbing the value chain' for Manitoba entities
Be a catalyst for attracting future engine MRO work, based on having a highly trained workforce in Manitoba
– CREATE HIGH QUALITY JOBs
Technology Objectives
WestCaRD was formed in conjunction with GE Aviation's testing and certification requirement for aero-engine flight in cold weather and icing conditions. Winnipeg's cold winter environment offers a significant testing envelope for icing R&D as well as test and certification without the need to refrigerate the large quantities of air consumed by today's aero-engines.
The establishment of the Testing Research & Development Center involved StandardAero oversight of the construction and commissioning of this large 'free-jet' icing certification facility as well as its operation and maintenance. GE Aviation's new families of engines will make their way through this facility in Winnipeg as part of the extensive airworthiness certification process – ensuring that the aircraft that use these engines are capable of safe flight in all atmospheric conditions. The facility is also capable of ingestion testing, performance testing and endurance testing.
A word about the free-jet design environment –The free-jet approach employs a large open circuit outdoor wind tunnel to produce a high volume air flow that is delivered to the front face of an engine or whatever else is placed in the airflow path. Super-cooled liquid water, sand, hailstones or other atmospheric contaminants are introduced into the air-stream and inducted into the engines during operation.
The free-jet design approach enables a variety of other research, development, test and evaluation (RDT&E) operations. For example, scaled aircraft can be "flown" in the flowfield produced by the wind generator, and buses or train cars can be exposed to representative operational environments whether for ice conditions or simply for drag related R&D engineering activities. In this manner, WestCaRD can support other Manitoban and Canadian advanced technology endeavours.
Some examples of potential technology development activities include:
Advanced instrumentation & data acquisition systems,
Engines, materials, and components testing via projectile, impact and endurance testing,
Operability in icing & other adverse environmental conditions,
Improved development & certification testing technologies,
Airflow/Noise Management & Green Technologies,
Prognostics and integrated health management systems & technologies,
Design evaluation, improvements and repair technologies, and
Emerging materials, processes and technologies
Equipment Acquisition
WestCaRD equipment purchases have focused on adding equipment to the Testing Research & Development Centre that would support year-round usage of the facility and add more capability beyond environmental icing tests, to include ingestion, performance and endurance testing. Such equipment has added specific capabilities that provide improved efficiencies, data capture, airflow management, high speed imaging, advanced lighting, and special handling and transport capabilities. In our growth strategy we will explore opportunities beyond aerospace sector R&D into land transportation, energy applications including alternate fuels, and manufacturing related processes that require some form of operational test certification.
WestCaRD will continue to pursue a structured long term capital investment process in which market requirements are matched to technology drivers that can benefit Manitoba's and Canada's economy in multiple sectors.